Wedding Supplies
Balloons
DIY Organic arches and accents
This post may contain affiliate links. As an Amazon Associate I earn from qualifying purchases. If you make a purchase though an affiliate link, we may earn a commission at no extra cost to you.
DIY Wedding Balloon Garlands
Balloon garlands make excellent frames for entryways, photo backdrops and dessert or other tables. Organic garlands are made from several sizes of balloons in different colors and look sophisticated. Garlands can be made from individual balloons or you can purchase a kit. Garland kits come with multiple sizes of balloons, glue dots and a garland strip. You can also create a garland by tying balloons together and wrapping them around themselves. Bubbly Balloon Co has a tutorial on YouTube that demonstrates this method.
Balloon Letters
Balloon letters add fun to any reception or party. Hang them behind the bar or above the dessert table. Spell words such as Love or Party. Pick letters to make a monogram. Numbers can be used for dates or years.
Balloon Pumps
The only way you want to blow up a large number of balloons is with an hand or electric pump! Pumps save time and your sanity. They also allow for more accurate inflation which prevents popping. Have a few extra balloons on hand to practice using your pump before starting on your garland or décor.
Electic pumps are quick and easy to use. They usually come with different nozzels for different sizes of balloons. 
Balloon tying tools can make it easier to tie balloons, especially if you have a few hundred to tie. 
Denver Wedding Balloon Designers
Balloon designers can customize balloon décor to your specifications. They can also deliver and install your balloon décor on the day of your wedding. Hiring a balloon designer for your Denver wedding can save you time so that you can DIY other components of your big day. There are several professional balloon designers in the Denver area and in Colorado. The businesses here are not an inclusive list and do not imply an endorsement.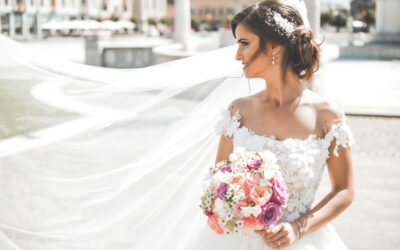 Gorgeous Necklines Off the shoulder wedding dresses are trending and for good reason! Unlike strapless dresses, off the shoulder dresses draw the eye down, out and in, highlighting the collar bones and shoulders in a very flattering way. Sleevelets are a glamorous...