Wedding Supplies
Paper &
Stationery
Invitations, menus, table cards & more
This post may contain affiliate links. As an Amazon Associate I earn from qualifying purchases. If you make a purchase though an affiliate link, we may earn a commission at no extra cost to you.
Print At Home For DIY Weddings
Print at home invitations, menus, table cards, seat assignments, etc. are a great way to have complete control over your design while being budget conscious. You can easily save cost by only printing the number of items you need. Printing invitations on demand  is an affordable way to have extras on hand. Keep in mind that you may need to purchase a higher quality printer, and printer cartridges, in order to achieve the look you want. Factor in these costs when choosing between printing at home and printing online.
Print Online
Designing and printing invitations, menus, table numbers and seat assignments online is an affordable way to create a professional looking product. With this option, you can start with blank invitation and design it yourself, or choose from thousands of customizable templates created by professional designers. Most of these services have minimum order requirements; be sure to check the requirement before designing your invitation. 500 invitations may seem like a bargain, but will you do with the extra if you only plan to send 100? There are many online printing buisnesses that are similar to the ones listed below. The listed businesses below do not indicate an endorsement.
Zazzle online marketplace allows you to design your own invitations, and thousands of other products. Or, you can choose premade designs that are customized by one of many designers.
Vistaprint has hundreds of designs to choose from for wedding invitaion sets as well as other wedding paper products. Choose a template or create your own design.
Snapfish incorporates photos into invitaions, save the dates and other printed products. Choose a tempalte or design your own.
Decoration
Ribbons, seals, punches, embossing, stamps. Even the simplest invitation feels glamorous with the right embellishments. Print a few extra envelopes and cards so that you can create a variety of samples with different looks. Once you find a design combination that you love, take a photo of each element so that you can easily re-create it. Then, take the complete invitation to the post office to have it weighed and send it to yourself. This not only gives you an idea how much it will cost to send each invitation, it will also be an opportunity to make sure your design will work when sent in the mail. Wax seals, for example, will most likely chip or fall off when sent through a sorter.
Local Printshops
From letterpresses invitations on hand made paper to engraved, formal invitations, printshops take care of all of the details and can extend your design to any other paper needs for your wedding, reception, thank you notes and personal stationery. Hiring a local printer is not DIY. It is, however, a valuable time saver and produces a beautiful, tactile product. There are many printshops in Denver and the surrounding communities. This does not include them all and is not an endorsement of any one business.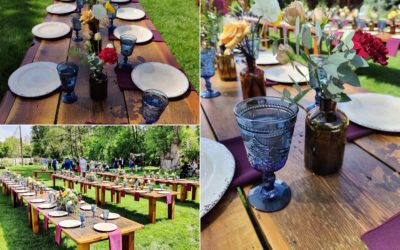 Shop The Look Natalie & Jenn's wedding in Lyons, Colorado was a beautiful. The ceremony and reception were outside, on a gorgeous day, at the Lyons Farmette. The look was vintage, jewel toned and rustic. You can recreate the reception look for your own wedding...