Functional & Fabulous
Hear us out. Jumpsuits are our number one pick for bridesmaids this year. And next year. And forever more. These are not just any jumpsuits. These are designed specifically for bridesmaids and formal events. Each of the jumpsuits featured in this post are available in a wide variety of colors from ethereal to jewel tones.
Why jumpsuits? Function and glamour. We have been there. It's wonderful to be asked to be a bridesmaid…but who can ever really, truly wear a bridesmaid dress again? Not to worry with a jumpsuit. Give your bridesmaids the option to wear a jumpsuit and any thoughts of bridezilla will go out of their minds. Jumpsuits like the ones featured in this post can be worn at any cocktail party, company party, date night, theater event. They can be dressed up with a stole or dressed down with a jean jacket. Your bridesmaids will thank you!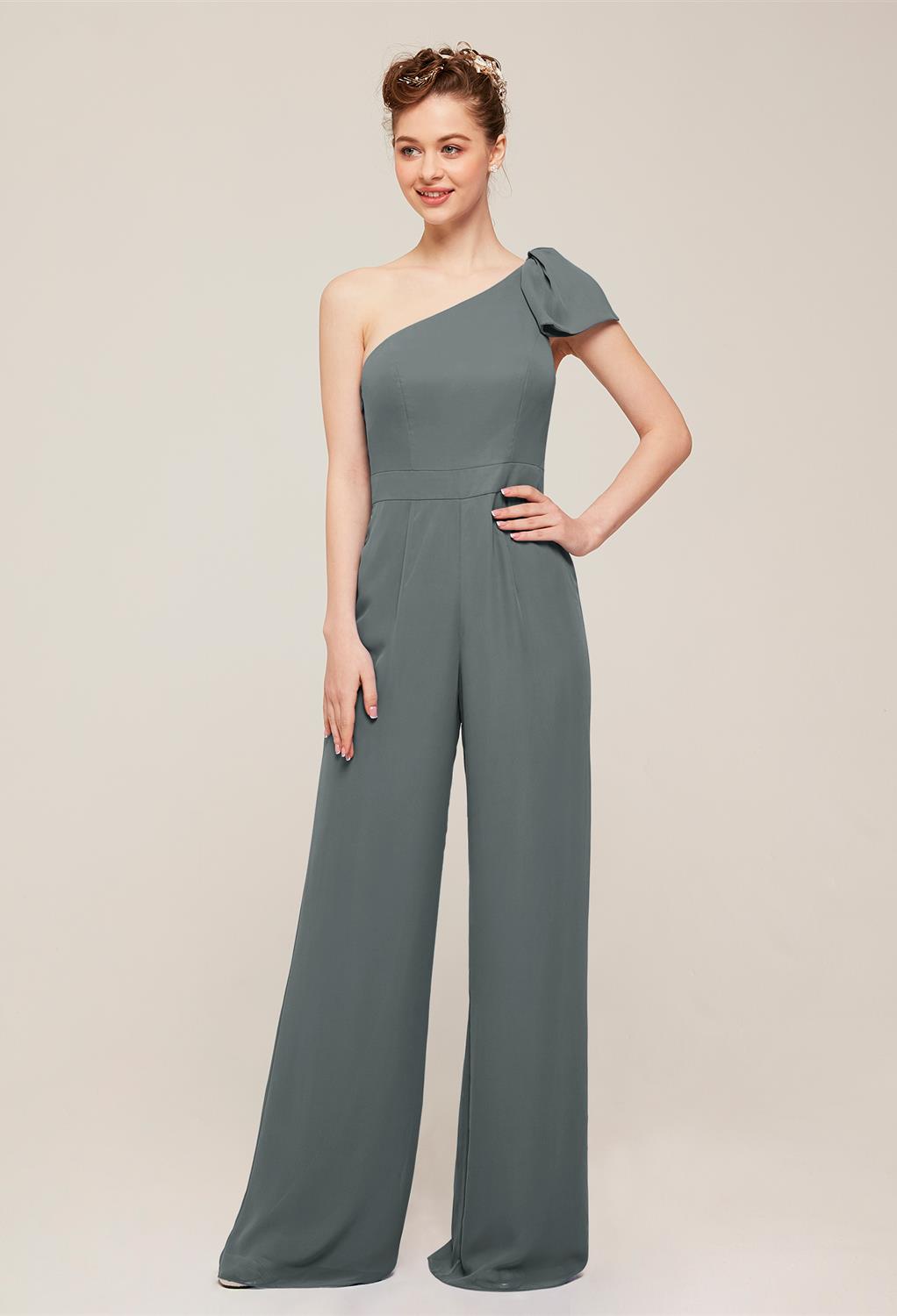 AW Basil Jumpsuit - $99.99
The Basil pant suit is all at once elegant and charming. Offered in a great selection of colors and sizes, this pant suit will have you looking purely perfect at your next formal occasion. One bared shoulder brings with it a flirty charm, while the sleek lines are all at once flattering and romantic.

AW Lento Jumpsuit - $99.99
AW Lento impressively embodies elegance and laid-back charm together. This linen pleated, floor-length jumpsuit passionately presents you as an impeccable muse and bridesmaid for your girlie. Its surplice V-neckline bodice and short sleeves begins with a graceful aesthetic. AW Lorraine Jumpsuit - $99.99
Lorraine is a darling chiffon jumpsuit that is a great choice in outfit for a bridesmaid,maid of honor or the mother of the bride.The strappy shoulder design is flattering,while the cinched in waist adds a hint of romantic sass to the outfit.Perfect for a spring wedding under the cherry blossoms,this full-length jumpsuit can be found in several lovely color options.

AW Talia Jumpsuit - $99.99
This stunning wide-leg, bridesmaid jumpsuit is designed from beautiful chiffon fabric with a sweetheart neckline and floor-length hemline. The zipper adds uniqueness while the cape top and strapless design create a trendy look. The built-in bra lining ensures a comfortable fit, allowing you to dance the night away in style. AW Flossie Jumpsuit - $89.99
The AW Flossie Jumpsuit is a unique and trendy bridesmaid piece for the stylish bride and her squad. It is one that would make your bridal train unforgettable among friends and family for being chic, unconventional, and creative. Sewn with 100% top-grade chiffon material for that relaxed and breathable feel it produces on the body.

AW Delma Jumpsuit - $99.99
AW Delma jumpsuit is a custom-made two piece tailored to adorn you with an enviable sense of confidence and finesse. This shimmery pleated mesh prom two-piece features an asymmetrical sling top that amplifies your sass.
Custom Tote Bag
A custom tote back is the perfect accessory on the big day for your bridesmaids. There are always things to carry between and after the ceremony and reception–bottled water, comfortable shoes, makeup for touch ups, etc. A custom tote, like this one, is extra special.
Banish Puffy Eyes
These 24k gold eye patches are a fun gift for bridesmaids, for before or after the wedding! Banish puffiness and dark under eye circles with these patches that contain gold as well as other soothing ingredients. 
Elegant DIY Weddings
Providing flattering and functional options for your bridesmaids is not only kind, but also realistic! Today, everyone is watching what they spend and being able to wear a bridesmaid dress or jumpsuit again is just one way to save. Bridesmaids stand up with you and have been there for you as friends or family for years. They are wonderful supports for you and cannot wait to celebrate with you. 
DIY weddings are a meaningful way to share your love with your family and friends. Whether your wedding is in a backyard, reception hall or other location, you can create the DIY wedding of your dreams. Denver DIY Bride curates supplies and ideas for DIY weddings. We are here for you with ideas, supplies and support.
Whether you are planning a vintage reception, classic backyard ceremony or a black and white ball, wedding planning can be stressful. Don't forget to breathe, relax and enjoy the process!
Have you created a wedding registry yet?