Check The Box
Planning a DIY wedding is extremely satisfying and ensures every detail is just the way you want. It is also a lot of work! Keeping track of details, receipts, vendors (professional or family and friend volunteers), equipment, supplies and all of the other activities related to your big day takes preparation and time. This checklist provides a general timeline for the months leading up to your DIY wedding.
Need A Wedding Organizer & Planner?
If you want more than on online checklist, an organizer that you can customize and keep track of everything you need can help! One Blushing Bride has created a gorgeous digital wedding planner. The planner can be customized in Canva or Goodnotes, printed or downloaded. Not only are there checklists, but also seating charts, mood boards and a honeymoon itinerary planner. 
12-18 months before the wedding
Set your wedding date and book your wedding venue. If your venue is a backyard, make sure everyone has the date on their calendars and that no landscaping or remodeling projects will be in progress at the time of your wedding.
Decide on your wedding budget.
Get organized. Create a DIY planning binder, buy a pre-printed organizer or hire a professional wedding planner.
Create a preliminary guest list.
Book your wedding photographer/videographer/drone photographer.
Book your wedding caterer (professional or family) and start planning the menu.
Book your wedding officiant.
Start shopping for your wedding dress and bridesmaid dresses. If you are making your own wedding dress, select the pattern and order all notions, fabric and supplies.
Start selecting your wedding flowers. Either book a florist or find a wholesale option and place your order.
Book your wedding musicians or DJ. If you are your own DJ, order speakers and other equipment.
Book your transportation for the wedding day.
9-12 months before the wedding
Finalize your guest list
Create your wedding website.
Send out save-the-dates. Easily design, print and send through Minted.
Order your wedding cake. If you or a family member is making your cake, select and test the recipe.
Book your hair and makeup artists. If you plan to do your own hair and makeup, select styles, order supplies and practice.
Start planning your wedding ceremony and reception details (theme, décor, rentals, etc.)
Schedule engagement photos, if desired.
Select wedding invitations and stationery, if needed. Invitations can also be designed, printed and sent through a company like Minted.
Choose your wedding rings.
Book hotel accommodations, or find spare rooms, for out-of-town guests.
Research marriage license requirements and begin the process.
Create an Amazon Wedding Registry. Register for gifts, charitable contributions or opt out of a registry. This detail will be included on your invitation.
6-9 months before the wedding
Finalize wedding invitations and send them out
Schedule dress fittings and alterations or begin constructing your dress if you are sewing your own.
Purchase any accessories (cufflinks, veil, shoes, jewelry, etc.)
Choose ceremony readings and music.
Begin putting together centerpieces, decorations and favors.
Book your rehearsal dinner venue and plan the menu.
Confirm details with all vendors, including any family or friends. Don't assume!
No matter how big or small, draft a wedding day timeline.
3-6 months before the wedding
Have your final dress fitting.
Purchase gifts for your wedding party, parents and anyone else you plan to recognize.
Order wedding day signage and decor or create your own.
Practice any DIY aspects of your big day. Practice setting up and using sound equipment. Practice hair and makeup. Test recipes and bake a test cake (yes, a second time!).
Finalize the wedding day timeline and send it to everyone involved. Confirm with vendors, family and friends that they will be able to accommodate the timeline and make adjustments as needed.
Create a seating chart and finalize table assignments, if needed.
Purchase any last-minute decor or accessories.
1-3 months before the wedding
Obtain your marriage license.
Have a final consultation with all vendors, family and friends involved in the wedding. 
Send the final wedding day timeline to vendors, family and friends.
Confirm final guest count.
Confirm transportation arrangements.
Confirm hotel accommodations, or spare rooms, for out-of-town guests
One last hair and makeup practice session or trial if you have hired a professional.
Practice walking in your wedding day shoes!
1 week before the wedding
Confirm all details with vendors, family and friends (yes, again!)
Pack a go bag for the day of. Include comfortable shoes or slippers, chapstick, duct tape, an extension cord, snacks, bobby pins, etc. 
Confirm the wedding day timeline with all members of the wedding party.
Have a final consultation with your wedding planner or go through you checklists and supplies if you are your own wedding planner.
Get a manicure and pedicure or do it yourself. 
Breathe
Know that not everything will be perfect and that is okay.
Relax and enjoy your special day!
DIY Wedding Planning
With the right wedding planning and organization system, you can create the DIY wedding of your dreams. DIY wedding organizers and planners keep all of your ideas, vendors and plans organized and findable. Whether you are planning a wedding for 20 or 250, being organized will help you accomplish each step in the wedding planning process. These planners and guides will help you delight your guests and create an unforgettable celebration.
Check out the decorations page for more ideas from Denver DIY Bride.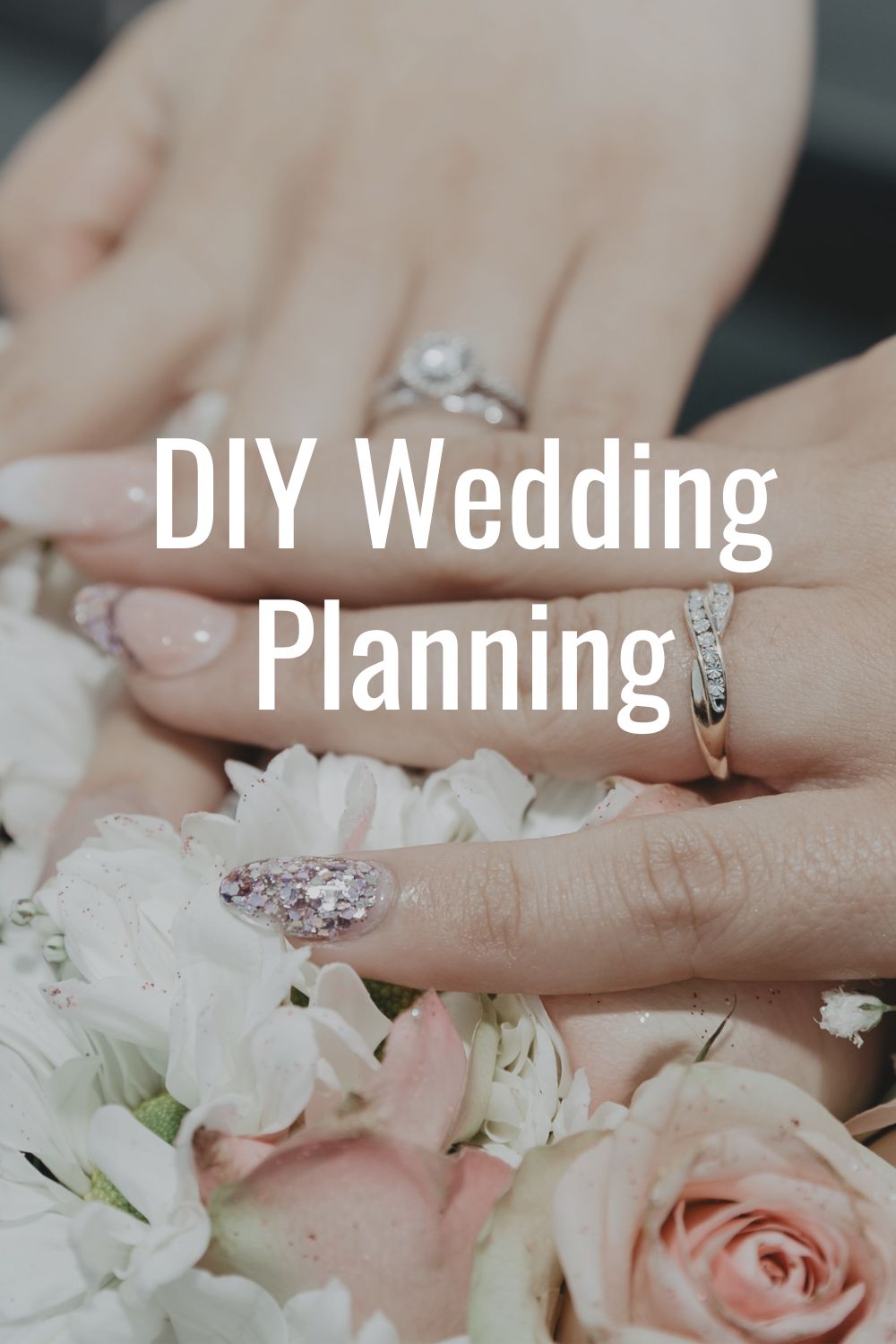 DenverDIYBride.com may recieve commissions on purchases made through links on our website.
Copyright © 2023 denverdiybride.com| All Rights Reserved |
Privacy Policy