DIY Wedding Invitations
Print at home invitations, menus, table cards, seat assignments, etc. are a great way to have complete control over your design, while being budget conscious. You can easily save money and supplies by only printing the number of items you need. Printing on demand at home also allows you to easily keep up with changes, such as adding or removing guests as they RSVP. You may need to purchase a higher quality printer, and printer cartridges, in order to achieve the look you want. Factor in these costs when choosing between printing at home and printing online.
Invitations, Place Cards & Menus
Pre-sized paper products that are specifically for print at home printers are easy to use. Handmade paper, lightweight papers and other specialty papers may not be compatible with home printers. If you want to use handmade or specialty paper for your invitations, print a test piece to make sure the paper can be pulled through the printer without damage and that the ink does not bleed or soak through the paper. If your test is not satisfactory, use your specialty paper as an accent, leaf or decoration on the printed invitation.
Other options include inviation sets that come with a printable inner card and a laser cut decorative card or envelope. Very simple invitations come pre-printed with a design and blank spaces to fill in details by hand.
When embellished and put in an envelope,
4 x 6 postcards
become a simple print at home invitation. With a stamp and return address, they can become RSVP cards.
This set of laser cut
invitation envelopes
comes with blank invitation cards that can be printed at home or professionally.
Envelopes & Labels
Some home printers are able to print to and from addresses on envelopes. If you purchase envelopes from Avery or another paper company, you may have access to templates online, through the company website. Whether you do or not, make sure to print a test envelope before to make sure the printer can pull in the envelope and that it looks the way you want. Most home printers can print labels, which can be used for to and from addresses instead of printing directly on the envelope. Custom from labels, designed and printed professionally, can save time and elevate the look of printed labels.
Decorations & Flourishes
Print at home invitations do not need to be boring! Create beautiful invitations by adding ribbons, trim, handmade paper accents, punches, stamps, embossing and more.
Edge paper punches add sophistication to invitations, thank you cards and table markers. A wide variety of designs are available.
Embossing kits help you add texture and interest to paper. Emboss over freehand lettering or use a stamp for consistency.
Sheer organza ribbon comes in dozens of colors. Tie a bow around invitations or add to programs for a touch of color.
Decorative papers that cannot be printed on can be used as backing, for decoration, or as interleaving between invitation pieces. 
How to print invitations at home:
Buy print at home postcards, cards or other size paper at office supply stores or online. Brands, such as Avery, make several sizes of cards.
Design your invitation using word processing software or a free design software, like Canva.com.
Print a sample. Print an invitation, envelope and any other components. Did each piece turn out as expected? If not, troubleshoot the design, paper or printer and try again.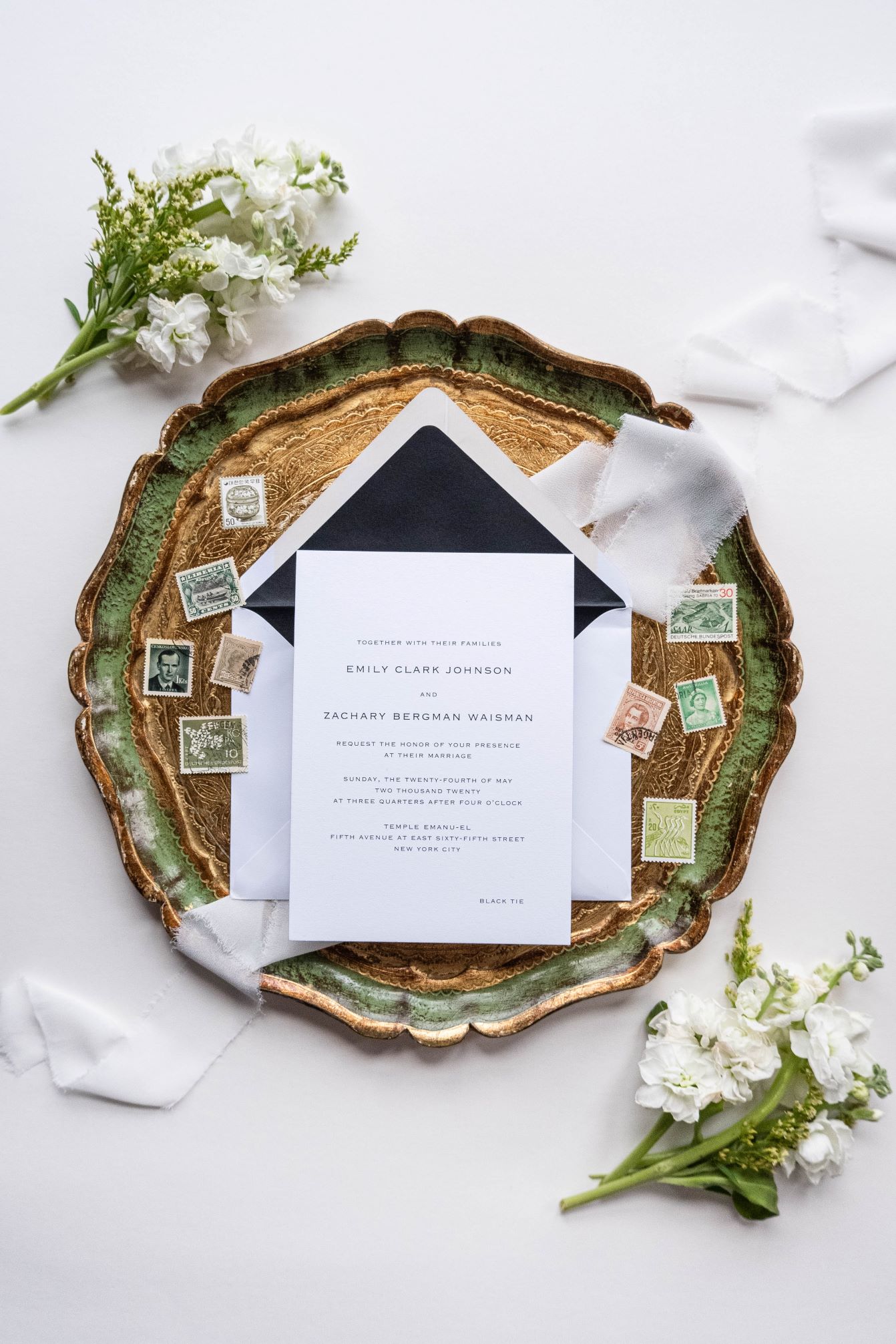 DIY Wedding Invitations Made Easy
With the right supplies, you can print beautiful wedding invitations, menus, place cards and thank you notes at home. Printing invitations at home gives you ultimate control over the wording and style of your invitations. Additionally, it allows you to create a handmade wedding invitation that will be a delight to open. For more DIY wedding ideas, check out Denver DIY Bride's Inspiration page.