Backyard Weddings
Beautiful backyard celebrations
Backyard Weddings
Supplies & Ideas
Backyard weddings are a wonderful way to celebrate your love with family and friends. No matter what theme you choose for your event, it is possible to achieve. Yes! A backyard wedding can be charming, glamourous, casual, formal, traditional, contemporary or any other theme you choose. We have curated a list of supplies to help you create an event that will delight your guests.
This post may contain affiliate links. As an Amazon Associate I earn from qualifying purchases. If you make a purchase though an affiliate link, we may earn a commission at no extra cost to you.
Lighting
There are so many types of lighting you can use to create ambiance at your backyard wedding. Fill hurricane glasses with fairy lights for romantic ambiance. Arrange lights within topiaries, wreaths or other floral arrangements as an accent. String lights, especially Edison bulbs, are romantic and act as a source of practical lighting. Party lights can transform a backyard dancefloor. Lanterns, paired with flameless candles, add lighting, define spaces and pathways, and can even be held by the wedding party in place of bouquets. There are many options for backyard wedding lighting, here are a few curated options.
Seating & Arches
Backyard wedding ceremonies are an intimate way to share your love with you closest friends and family members. Ceremony supplies include chairs, aisle runners, arches, pedestals and other supplies that create your wedding ceremony site. Customize your ceremony seating with DIY aisle markers. Aisle runners can be purchased, or look for narrow carpets, fabric or even velvet curtains as a DIY option.
Balloons
Balloon garlands accent entryways, add interest to selfie stations and highlight dessert tables. DIY kits are available and easy to put together. Bubbly Balloon Co has a tutorial on YouTube that demonstrates an easy method. Balloons that spell words like Love and Party are fun ways to add sparkle and excitement. Letter balloons are also available so that you can spell out a name or any meaningful word. More balloon supplies and Denver area balloon designers are listed on Denver DIY Bride's Balloon page.
Decorations
There are so many wonderful ways to decorate a backyard for a wedding! The supplies here are just a few options that compliment most wedding themes and aesthetics. For centerpiece ideas, take a look at our Flower Free Centerpieces guide.
Food & Drinks
Setting up food and beverages for DIY backyard weddings can be as simple as a small buffet of cold salads, caviar and appetizers, or as involved as a pig roast. If you decide to provide your own catering, you will want to have the right supplies on hand to make set up easy and stress free.
DIY Wedding Extras
If you are creating a Denber DIY backyard wedding then a day of kit with tools, batteries, extension cords, snacks and duct tape is vital! Other ideas for your kit include garbage bags, double sided tape, lip balm, hand lotion and bobby pins.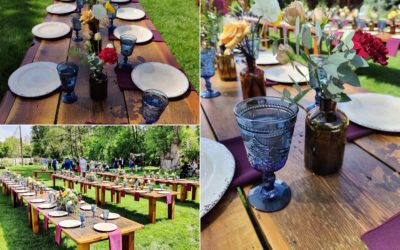 Shop The Look Natalie & Jenn's wedding in Lyons, Colorado was a beautiful. The ceremony and reception were outside, on a gorgeous day, at the Lyons Farmette. The look was vintage, jewel toned and rustic. You can recreate the reception look for your own wedding...