Wedding Supplies
Lighting
Create ambiance with fantastic lighting
This post may contain affiliate links. As an Amazon Associate I earn from qualifying purchases. If you make a purchase though an affiliate link, we may earn a commission at no extra cost to you.
Fairy Lights
Fairy lights add whimsy to centerpieces, floral arrangements and other decorative elements. The bulbs of fairy, or twinkle, lights are smaller than regular string lights and they are often powered by a battery pack. Fill hurricane glasses with fairy lights for romantic ambiance. Arrange lights within topiaries, wreaths or other floral arrangements as an accent. However you use them, be sure to check if the lights come with batteries or if they need to be charged or plugged in. Be sure to charge before the big day or have extra batteries available.
String Lights
String lights create ambiance as well as being a source of practical lighting. While larger than fairy lights, string lights can range in size from 3/4″ to 1.5″ or even larger. Strawberry lights are rounded and the traditional shape of Christmas lights. Globe lights have a vintage look. No matter what kind of strung lights you choose, verify whether or not they can be used indoors, outdoors, or both and make sure you have extension cords available.
Lanterns for DIY Weddings
Metal lanterns add rustic romance to any wedding. Vintage lanterns can sometimes be found at thrift shops and can be modernized by replacing oil wells with electric candles. Modern lanterns are often battery powered or rechargeable. Lanterns can be added to centerpieces, used as aisle markers, held by the bridal party in place of bouquets, or used as part of accent lighting.
Paper lanterns come in a variety of colors and sizes. Grouped or strung separately, they are a fresh decorative alternative to pedestals and topiaries.
Party Lights & Projectors
Party lights and projector lights are fun and playful. They can add a professional feel to your reception, especially on the dance floor. Projector lights can project images as well as interesting light patters, such as stars, clouds and snowflakes.
Cords & Batteries
If you are creating a DIY wedding, it is important to not forget the tools and accessories that make everything work! For lighting, that means batteries, extension cords and extra bulbs. Depending on your lighting set up, plan to have these items on hand and make sure someone is assigned responsibility for them during setup, cleanup and troubleshooting.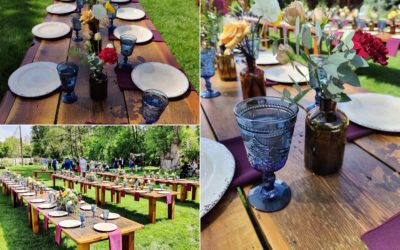 Shop The Look Natalie & Jenn's wedding in Lyons, Colorado was a beautiful. The ceremony and reception were outside, on a gorgeous day, at the Lyons Farmette. The look was vintage, jewel toned and rustic. You can recreate the reception look for your own wedding...